Emergency
Responder Radio
Communication
System
EERCS
In times of crisis, first responders must be able to communicate clearly. Uninterrupted connectivity is essential for rapid and effective emergency response. This is where an Emergency Responder Radio Communication System (ERRCS) comes into play.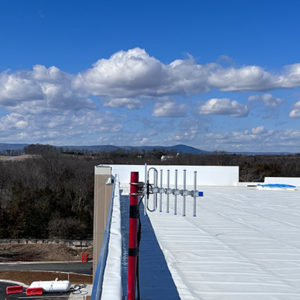 ERRCS are complex and comprise several critical components
An emergency responder radio communication system (ERRCS) is a wireless public safety system that receives external radio signals and retransmits them inside the building – ensuring signal penetration and reliable cellular coverage in all areas of the facility, including dead zones and isolated places
Donor Antenna – Receives signals from the network of first responders.
Bi-Directional Amplifier (BDA) – Connects to a donor antenna and to the DAS via cable or fiber. Amplifies signals for distribution via the DAS.
Distributed Antenna System (DAS) – The in-building network of coax cables, splitters, and antennas used to evenly distribute the amplified signals throughout the building.
Battery Backup System – Provides uninterrupted power in the event of power failure.
ERRC systems need to be tested regularly. The fire department requires that these systems are inspected and tested on an annual basis.
How is an ERRCS Inspection Conducted?
An inspection team will conduct an inspection process similar to the 20 grid test in which they will divide and sweep the building to locate areas of poor coverage. Their reports will be forwarded to the building department and fire department for approval.
What Type of Buildings Need Emergency Responder Radio Communications Systems?
buildings that typically require the installation of ERRCS
Gulf Coast Power and Light takes pride in the work we do and the products we offer and we guarantee both 100%.